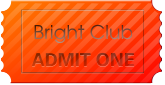 Buy your ticket now!
The thinking person's variety night, with our special guests Nicky Doody and Vikki Stone on stage alongside fellows and researchers giving stand-up comedy a go for the first time. Join academics from Cambridge and beyond for a lighthearted look at their research.
It's a comedy night with a difference and not to be missed.